Selected Prayers: A Collection of Du'a from The Qur'an and Sunnah by Dr Jamal A. Badawi
This is a selection of du'a of the Prophet Muhammad (SAAS) taken from the Qur'an and Sunnah, for a variety of social situations. The original Arabic du?a is given with the English translation, as well as the phonetic transliteration for those readers learning Arabic.
Out of stock
Enter your email to be notified when it is back in stock
Publisher: TAHA (UK)
Author: Jamal A. Badawi
Product Code/ISBN: 9781842000779
Specifications: Paperback, 76 Pages
Only logged in customers who have purchased this product may write a review.
Related products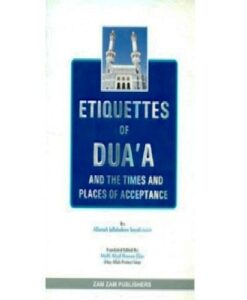 Out of stock